RWJBarnabas Health and Rutgers Form Partnership
From Modern Healthcare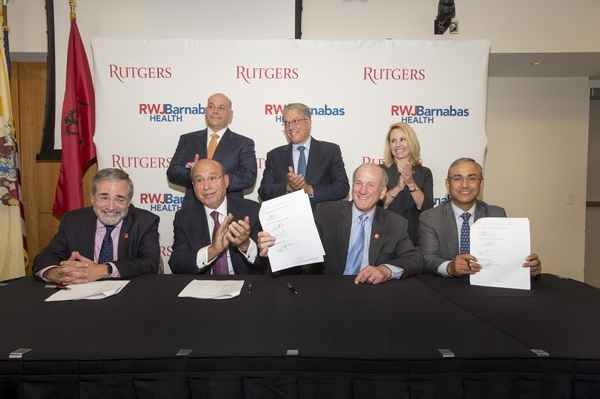 RWJBarnabas Health and Rutgers University are partnering to create New Jersey's largest academic healthcare system.
RWJBarnabas Health, New Jersey's largest health system with 13 hospitals and annual revenue of $5.1 billion, signed a letter of intent Thursday with Rutgers and its health group—a faculty practice of about 1,000 Rutgers-employed physicians as well as dentists, psychologists, nurses, pharmacists and other healthcare professionals. The result will be a multispecialty group of more than 2,500 practitioners.
The partnership will enhance healthcare delivery and accessibility, boost the recruitment of academic, research and clinical practitioners, and strengthen health science innovation and education, executives said.
"In this business, scale means everything," Rutgers President Dr. Robert Barchi said in a conference call with reporters. "If you want to deliver first-rate care, perform population health-based research, capitalize what you do across the entire system and bring in talent including community-based physicians, hospital physician groups and academic and research groups, you need scale."
The partnership will allow Rutgers to expand its clinical trials, grow its biomedical research and practice new types of medicine, said Brian Strom, Rutgers biomedical and health sciences chancellor.
"By expanding our clinical trials, we can make sure patients get state-of-the-art care while at same time being able to contribute to science," Strom said during the call.
The pace of consolidation among providers has quickened in recent years and that trend is expected to continue. Providers say they must merge to remain competitive, scale costs and streamline operations. Others worry that a more consolidated market translates to higher healthcare costs.
Hackensack Meridian Health and JFK Health signed a definitive agreement to merge in May to create a combined entity with 15 hospitals throughout New Jersey. The merger would help Hackensack bolster its ambulatory network, officials said.
RWJBarnabas and Rutgers will remain separate corporations as Rutgers will provide clinical services to RWJBarnabas through Rutgers Health Group, executives said. The newly formed academic healthcare system will create a joint committee for strategic planning and oversight.