Supporters of Improved Family Leave Bill Urge Christie to Sign the Bill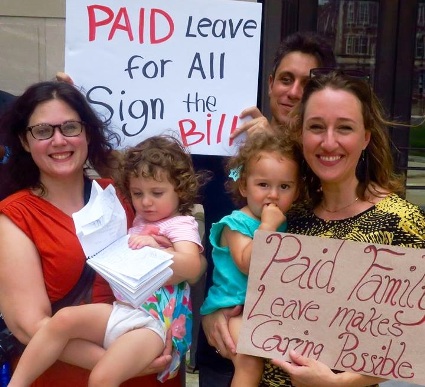 Supporters of a bill to strengthen and improve New Jersey's Paid Family Leave Insurance Program held a press conference and rally in Trenton yesterday to urge Governor Christie to sign the bill. Christie has until August 10 to decide whether to sign the bill or veto it.
Currently, the insurance covers children, spouses or partners and parents, but the bill would also make siblings, grandparents and grandchildren and in-laws eligible. It would double the paid time off allowed from six to 12 weeks, and it would increase weekly benefits from almost 67 percent of wages — capped at $633 — up to 90 percent of weekly wages — capped at $932.
Read an article about the press conference and rally.
HPAE participated in the press conference and strongly urges our members to contact the Governor.
Send a letter to Governor Christie urging him to sign the bill.