New Nurse Caucus Formed in Local 5058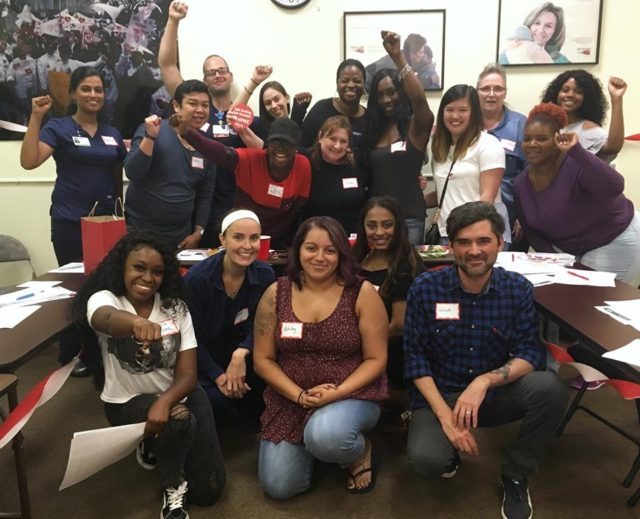 Members leaders of Local 5058 kicked off the "New Nurse Caucus" at a meeting on Tuesday, September 12th and unanimously adopted the following mission:
---
The New Nurse Caucus empowers nurses to stand together as advocates for our patients. We benefit from the wins fought by those who came before us, and strive to continue to make history as we build our strong union into the future.
---
The caucus is led by a growing group of new nurses leaders from across Jersey Shore University Medical Center aimed at engaging new nurses. The group is working with a loose definition of "new" which includes new grads, new employees at the hospital, new to a unit or department, or new to union life. While the project originally conceived the vision of new as nurses with five years of seniority or less, all are welcome.
The project is the outcome of over a year of work by Local 5058 Vice President Barbara Boyler. Like many seasoned unionists, Boyler saw the growing new population in her facility creating both a growing trend of un-engaged members and an organizing opportunity. With a nurturing touch and a steady stream of support and encouragement, she is striving to develop leadership among new nurses.
The overall goals of the New Nurses Caucus are:
Developing leaders who are confident advocates for safe staffing
Building the necessary skills and reputations to become the trusted face of our union
Changing the relationship members have with their union as the new nurse leaders embrace their roles
One of these newly developed union leaders, co-founder of the caucus, and a member of the caucus' steering committee is Domineek Everett, "I think about how others were once in my shoes as a new nurse. I see it as my responsibility to carry this work forward into the future and build my union as strong as it can be. Educating new nurses about union involvement and engagement is core to that success."
The  group intends to engage new nurses through a participatory, union education and engagement program paired with workshops on topics of specific interest to the members of this population. Contract-specific trainings will include how to maximize pay through picking up the best money-making shifts, to advocating for patients by fighting for safe staffing in contract negotiations and legislative campaigns. The New Nurse Caucus Steering Committee sees knowledge as power.
The group aims to build a positive, inclusive, and relatable campaign as a creative and effective way to build our union power. New Nurse Caucus Steering Committee member, Adam Witt expressed why he got involved: "I was tired of being a bystander. I'm involved because the New Nurse Caucus gives me the opportunity to make things better for our patients, for our co-workers, and for ourselves."