New Name, New Management for Bergen Regional Medical Center
The long-awaited "new day" for health care at Bergen County's public hospital arrived on Monday with new management and a new name for the 101-year-old facility on East Ridgewood Avenue.
Bergen Regional Medical Center will now be called New Bridge Medical Center. Officials of Care Plus, a nonprofit partnership of mental health and addiction providers, took over the operation of the hospital Monday during a ceremony on the grounds in which they promised more transparency and increased care for veterans and addicts.
Bergen County Executive James J. Tedesco, who advocated returning control of the hospital to a nonprofit corporation after 20 years of private, for-profit management, led the ceremony on the back lawn. He promised new and innovative care, more transparency and greater accountability.
"Today, the hospital is not only going to have a new name, but it will have people in the leadership that care about people," he told the crowd, which included HPAE Local 5091 President Jeff Peck and other union members employed at the hospital as RNs and non-nursing professional staff. (See photo below)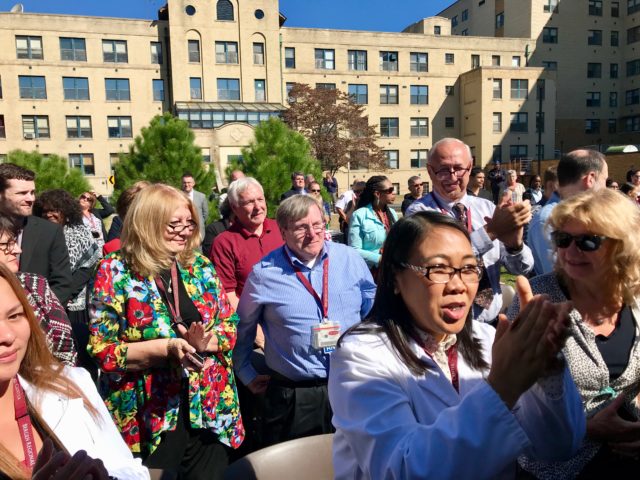 New Bridge Medical Center is the largest public hospital in New Jersey and the fourth-largest in the country. It has over 1,000 beds, offering acute care, a psychiatric ward, behavioral health, substance abuse treatment and a nursing home.
---
HPAE Secretary/Treasurer Barbara Rosen believes that the change in ownership will have positive effects on patient care and working conditions for staff:
After 19 years of being managed by a company where profit was more important than care, Bergen Regional Medical Center has been re-named New Bridge Medical Center with the promise that the original mission of the hospital will be restored.  After 19 years of working with limited resources, employees are optimistic that the care of patients will take priority over profits.    
County Executive Jim Tedesco kept his promise when it came to the county keeping the hospital under its jurisdiction with a not for profit status manager.   New Bridge Medical Center is an example of how elections matter.  Vote wisely on November 8th. 
---
Click here to read the full article in NorthJersey.com