N.J. officials doing 'everything we can' to prepare for coronavirus, Murphy says
Taken from NJ.com
By Brent Johnson | NJ Advance Media for NJ.com
February 26, 2020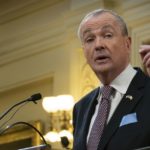 As fears grow about the spread of the coronavirus across the globe, Gov. Phil Murphy said state government officials held a meeting Wednesday morning to make sure New Jersey is prepared.
Murphy stressed there are no confirmed cases in the state, but his team is being cautious, going over "protocols, pre-emptive action, what do we do if X or Y happens."
"We're doing everything we can to get out ahead of this and also be as prepared as possible if something hits us," Murphy said during an unrelated event at William Paterson University in Wayne.
The governor also called on New Jerseyans to take precautions themselves.
"Please do the simple, basic stuff," Murphy said. "Kids, always use soap. Secondly, 20 seconds is the preferred amount of time. But that literally, other than coughing in your arm, that's the single most important thing we can do."
He also said if you're sick, "stay home."
"Self-isolate yourself until you're back on your feet," Murphy added.
Murphy also tweeted that Wednesday's meeting involved discussions about everything from "airport screenings to hospital preparedness."
"We are collaborating with our federal partners, state authorities, and local heath officials to protect all New Jerseyans," he wrote.