Not every N.J. hospital sees need to merge into bigger system — but independents are dwindling
Taken from ROI-NJ.com
February 20, 2020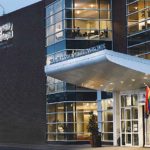 Every year, New Jersey's health care system moves one merger closer to making independent hospitals a relic of the past.
As hospitals struggle to face industry headwinds alone, enough consolidation has occurred to move the number of remaining independent hospitals into nearly single-digit territory.
But even if their numbers are shrinking, those that have resisted what many others have done — giving up their independent status — are adamant that they're going to continue to go it alone. 
Whether that lasts remains to be seen. 
With few exceptions, every year's news cycle has featured a several of the last standalone hospitals in New Jersey choosing to fly under the flag of one of the state's two large health systems. The latest iteration? Englewood Health pledging to merge into the ever-growing Hackensack Meridian Health after 130 years of operation as an independent hospital. 
In the October announcement, Englewood Health's leaders expressed that the community can expect to reap the benefits of Hackensack Meridian's promise to invest $400 million in operating rooms, cardiac facilities and outpatient sites. While undergoing regulatory approval of the merger, Englewood Health declined to provide additional commentary on the conversations that led up to the decision to partner with Hackensack Meridian Health.
The other large statewide health system, RWJBarnabas Health, was at nearly the same time last October signing a letter of intent to acquire Elizabeth's Trinitas Regional Medical Center.
With those announcements, only about 10 hospitals in the state remain independent from larger health systems. The more than 70 hospitals in New Jersey could at one point nearly all be counted as independent institutions.
In the lineup of independent hospitals, one of the largest is Holy Name Medical Center in Teaneck. Its leadership has in various media reports suggested that consolidating every hospital into a small number of health networks might not be good for the state.
The other small hospital network that has resisted the pressure to merge with larger providers is Valley Health, which runs Valley Hospital in Ridgewood. Its president of clinical integration and physician enterprise, Robert W. Brenner, expresses much of the same skepticism.