Short Supplies and Effects of 'Worried Well' Complicate NJ's Planning for COVID-19 Surge
Taken from NJSpotlight.com
March 16, 2020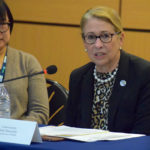 To deal with expected influx of patients, measures could include drafting in retired health care professional and reopening facilities that had been closed
With the growing impact of COVID-19, New Jersey health officials are reviewing plans for a likely hospital surge that could include reopening acute care facilities that had been closed in recent years, scaling up services at smaller community hospitals and calling in retired health care professionals to tend to the anticipated influx of patients.
Hospital executives are also making operational changes to prepare for more cases of the illness caused by the new coronavirus. By Sunday, 98 New Jerseyans had tested positive and two had died. Some facilities have already rescheduled elective surgeries and routine appointments, while others may suspend clinic services and community health programs.
"A surge in hospital use is what we'd be most concerned about," state Department of Health Commissioner Judith Persichilli said last week at one of the daily briefings New Jersey officials have held since the first cases were diagnosed here ten days ago. Significant worries involve physical space and staffing levels, she said, and in particular the limited availability of certain medical supplies, like protective masks and gowns.
"The hospitals are on the front lines," Pershichilli added. "They are treating patients who have tested positive, while at the same time dealing with community concerns." Reducing the pressure on these facilities is important to avoid "overstressing" the state's hospitals, she said, a scenario that emerged in Italy and has reportedly led medical providers there to ration care and prioritize younger patients over older, sicker individuals.
New Jersey leaders are already collecting additional medical supplies from federal and state stockpiles, including certain masks and face shields, protective gowns and other items now in short supply at some hospitals. Distribution of these materials will begin soon, but some labor leaders have warned that hospitals have been slow to train frontline workers on how to properly use this equipment.
Equipment and training
"There are shortages all over," said Debbie White, a nurse who is president of the Health Professionals and Allied Employees union, which represents thousands of frontline health care workers. She and other union leaders started sounding the alarm last week.
"Our biggest focus is getting equipment to our members, getting training to our members," she said, including when to use the gear and how to safely put it on and take it off. "I don't want to terrify people, but this is a serious, serious thing."
Concerns are growing nationwide about the toll the coronavirus will take on our health care system, in particular hospitals and their staff, who can come into daily contact with the virus. Public health experts agree COVID-19 cases will continue to rise — more than 3,000 people nationwide have already been infected, resulting in at least 62 deaths — as, they say, will the number of frontline workers that get sick and are forced to stop working. While the novel coronavirus results in mild, cold-like symptoms in most people, it can be fatal for older individuals and those with compromised immune systems.