Trump Signs Relief Package; China Reports Zero New Local Infections
Taken from The New York Times
March 18, 2020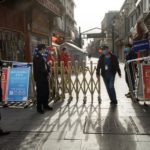 Two congressmen tested positive for the virus, as work continued on a larger stimulus package. The European Union found that Russia was behind harmful misinformation circulating in the West.
China reports zero local infections, a major turning point.
For the first time since the coronavirus crisis began, China on Thursday reported no new local infections for the previous day, a milestone in its costly battle with the outbreak that has since become a pandemic, upending daily life and economic activity around the world.
Officials said 34 new coronavirus cases had been confirmed, all involving people who had come to China from elsewhere.
In signaling that an end to China's epidemic might be in sight, the announcement could pave the way for officials to focus more on reviving the country's economy, which nearly ground to a halt after the government imposed travel restrictions and quarantine measures. In recent days, economic life has been resuming in fits and starts.
But China is not out of danger yet. Experts have said that it will need to see at least 14 consecutive days without new infections for the outbreak to be considered truly over. It remains to be seen whether the virus will re-emerge once daily life restarts and travel restrictions are lifted around the country.
"It's very clear that the actions taken in China have almost brought to an end their first wave of infections," said Ben Cowling, a professor and head of the division of epidemiology and biostatistics at Hong Kong University's School of Public Health. "The question is what will happen if there's a second wave, because the kind of measures that China has implemented are not necessarily sustainable in the long term."
To contain the outbreak, the authorities shut schools and workplaces and imposed travel and quarantine restrictions on broad swaths of the population and many visitors from abroad. Since January, more than 50 million people in the central province of Hubei, including its capital, Wuhan, where the outbreak began, have been subjected to a strict lockdown.