NJ Grants Legal Immunity to COVID-19 Health Care Providers
Taken from NJSpotlight
April 15, 2020
Fast-tracked measure easily passes both houses, but some lawmakers question both process and scope of legislation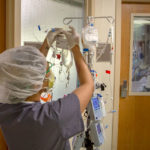 New Jersey's hospitals and health care professionals responding to the coronavirus are now largely protected from legal liability if a patient is injured or dies while under their care during the current  pandemic crisis, according to a law Gov. Phil Murphy signed Tuesday.
The law — retroactive to March 9 — is designed to "ensure that there are no impediments to providing medical treatment related to the COVID-19 emergency," according to a statement of intent attached to the bill, which easily passed both houses of the state Legislature during an emergency vote Monday.
But multiple lawmakers, including some who did not participate in the vote, raised questions about the rushed process and lack of public input on the bill, the broad scope of the immunity and the impact it could have on some families, especially in communities of color that are suffering disproportionately in the pandemic.
Sen. President Steve Sweeney (D-Gloucester), a lead sponsor of the bipartisan measure, said some health care workers have been hesitant to volunteer for fear they could be held liable if patients don't recover.
He said the Murphy administration had pressed for quick passage to protect the workforce and ensure hospitals have the staff resources needed to continue to meet patient demand during this current public health crisis.
"What is worse," providing broader immunity or "somebody dying because a doctor isn't there?" Sweeney asked lawmakers with concerns. "This is a public health emergency and we need to act now."
The law provides legal immunity to a range of clinicians, including those practicing outside the normal scope of their license. It also protects hospitals — including temporary facilities — and health care systems for actions taken by their staff, representatives or volunteers in relation to COVID-19 cases. It also covers decisions made about the allocation of ventilators or other scarce resources during the current emergency.
Lawmakers amended the legislation Monday to make clear it does not protect medical providers treating patients "in their normal course of business," like a cardiologist caring for a patient with a heart attack or an obstetrician delivering a baby. It also does not apply to outright criminal acts, fraud, gross negligence, recklessness or willful misconduct.
"It is not the Legislature's intent to grant immunity for medical services, treatment and procedures that are unrelated to the COVID-19 emergency," the amended introduction states.