Emergency room worker leaves void at hospital after Covid death
Taken from NBC News
By Ethan Sacks
September 26, 2020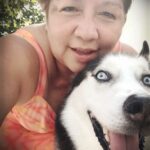 The halls of the Hackensack Meridian Health Palisades Medical Center in North Bergen, New Jersey, do not sound the same without Nancy Martell's voice echoing down the corridor — a morning staple there for 18 years.
There is now a huge void left at the hospital since Martell, a respected patient care technician, died on on July 12 after a three-month battle with Covid-19.
She would have turned 59 on Thursday.
"Every day I go to work I'm expecting for her to come walking down the hall," said Fran Ulloa, a registered nurse who worked alongside Martell in the ICU Unit for most of those 18 years. "You could hear her from the time she would get out of the elevator, so I when I knew she was there, it kind of put my smile on my face. 'Oh good, Nancy's working today.'
"She would come in saying, 'I'm here now, we can get started.'"
Martell, then Nancy Corales, got started on her journey toward that calling during her childhood in Lima, Peru.
As a young girl, according to family lore, she came upon a badly injured chicken and tried desperately, but unsuccessfully, to save it.
"My grandpa told me that he told my mom that it couldn't be saved, so I guess from that point on she said she wanted to help make people better," said her son, Chris, 24, an only child.
"She never took no for an answer. She was always very persistent," he said.
In Peru, Corales made good on her childhood vow, studying to become a nurse, serving as one in the Peruvian Navy, her son said. Later, she continued her studies and became an obstetrician, then wedded her husband, Jorge Martell — a marriage that lasted 24 years.
After her parents and three brothers moved to the United States in search of a better life, Martell and her own family, which now included 11-month-old Chris, followed to New Jersey in 1997. Settling in North Bergen and getting certified as a nurse's assistant, Martell started working at the hospital, then called Palisades Hospital, five years later.