Local 5058 Contract Update – July 27, 2022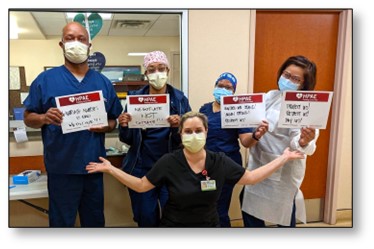 As we begin early negotiations with Hackensack Meridian Health (HMH), our message to the employer is Respect Us. Protect Us, Support Us. Over the last two years HMH has profited off our work, while too many of us have suffered. As negotiations progress, we will provide regular updates, and as we have seen before, HMH will have their own message to try to divide us as a union. Our strength is all of us standing together to demand Respect, Protection and Support so the hospital can recruit and retain our team of HPAE nurses at JSUMC.
Today, Day One, your negotiating committee met with HMH for early negotiations. We put all our proposals on the table, and now we await a response from the Employer.
After the devastation of the past two years and amid a staffing crisis like we've never seen, our expectation is that HMH should DO THE RIGHT THING by responding quickly and fully. We have achieved so much together as a union and now, we speak together to demand that the employer: protect us, respect us and support us We are demanding a contract that will promote recruitment and retention of staff and provides health and safety protections for both staff and patients.
ChildCare Update:
HMH announced the closing is delayed until December 31st. Debbie White, HPAE President called the decision rash and said, "This decision punishes employees who sacrificed during the pandemic." If you currently have children enrolled or have in the past please let us know by sharing your story, email local5058@hpae.org.
Next Steps: Bargaining resumes on
• July 29,
• August 8, 10, 11, 23, 24, 29, 30, 31
• September 1
Your Bargaining Team
Kendra McCann, President; Lourdes Wisniewski, Vice President; Tiffany Beavers Busby, Vice President; Jen Ravaoili, Vice President; Kathy Kochel, Grievance Chair; Daniel Hayes, Vice President