Local 5058 Contract Update – July 29, 2022
Bargaining Update
July 29, 2022
In these negotiations with Hackensack Meridian Health (HMH), our message to the employer is Respect Us. Protect Us, Support Us. As negotiations progress, we will provide regular updates. Our strength is all of us standing together to demand Respect, Protection and Support so the hospital can recruit and retain our team of HPAE nurses at JSUMC.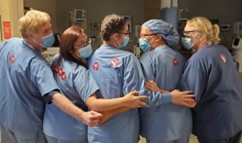 Day Two: After two days of negotiations, we, as your bargaining team have put forward proposals that help to Recruit and Retain Nurses. We deserve to be recognized for our experience and our longevity in our profession. We are fighting for a fair contract for every nurse.
In addition, we have demanded that HMH rescind their decision to close the Child Care Center, so our members and all healthcare workers have access to childcare that is affordable and accommodates the long and demanding hours that we work.
HMH put several proposals on the table including shift rotation and flexing.
Keep us informed: If you currently have children enrolled or have in the past please let us know by sharing your story, email local5058@hpae.org. Your voices are making a difference as HMH as also announced in the press that they are reconsidering their decision to close the ChildCare Center. https://www.app.com/story/news/health/2022/07/29/hackensack-meridian-health-to-revisit-decision-to-close-child-care/65386028007/
Next Steps:  Bargaining resumes on

August 8, 10, 11, 23, 24, 29, 30, 31
September 1
Get Involved: Wednesday, August 3rd  at 101 Walnut Street, Neptune, West Grove United Methodist Church
6pm – 7pm Contract Action Team
7pm- 8pm New Nurse Caucus
8pm – 9pm Contract Action Team
Your Bargaining Team
Kendra McCann, President; Lourdes Wisniewski, Vice President; Tiffany Beavers Busby, Vice President; Jen Ravaoili, Vice President; Kathy Kochel, Grievance Chair; Daniel Hayes, Vice President