HPAE Statement in Solidarity with Striking RWJUH Union Nurses
IMMEDIATE RELEASE: Monday, August 14, 2023
Please attribute the following statement to HPAE President Debbie White, RN: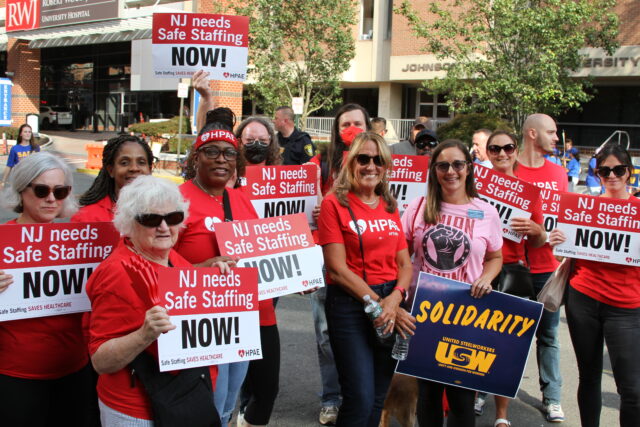 HPAE nurses and healthcare workers stand in solidarity with our USW4-200 nursing colleagues, at RWJUH, in the important fight for safe staffing. Hospital executives must not continue their short-sighted practice of down staffing to save money. Short Staffing and the stress it creates are the two top reasons nurses report leaving hospitals. Our healthcare system is now in crisis! We need to stop the bleed and retain the nurses that are working in our hospitals.
We are standing together to tell healthcare executives and New Jersey legislators that ignoring nurses is bad medicine. Nurses are the most trusted profession because they care for our most vulnerable population. Safe staffing standards allow nurses to practice safely and by extension, make patients safer. Safe staffing truly does saves lives.
HPAE is the largest union of registered nurses and healthcare professionals in New Jersey representing 14,000 nurses, social workers, therapists, technicians, medical researchers, and other healthcare professionals in hospitals, nursing homes, home care agencies, blood banks, and university research facilities.  HPAE is affiliated with the American Federation of Teachers, AFL-CIO.
For more information, contact: Michael Allen, (646) 436-7556.