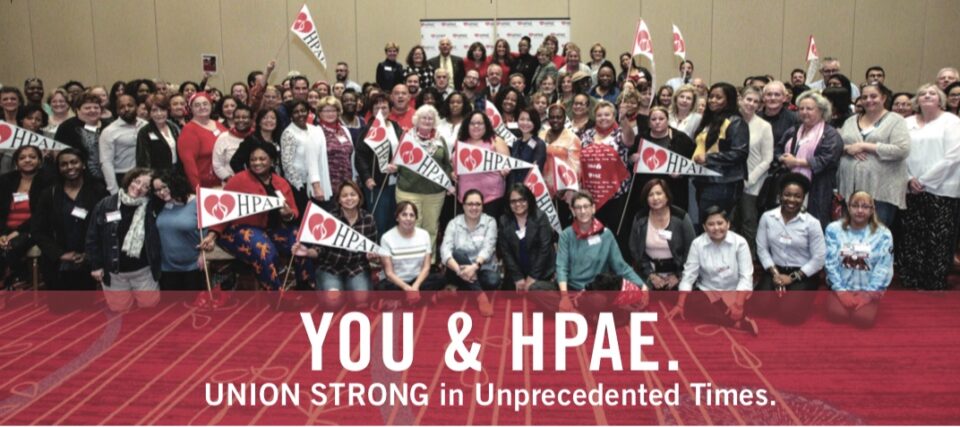 On October 6-7, 2021 hundreds of HPAE nurses and healthcare workers gathered virtually to reflect on the challenges and victories over the last three years and voted to re-elect a tried and tested slate of State Officer to continue leading HPAE for another three years after an unprecedented global pandemic. Congratulations to Debbie White, HPAE President; Barbara Rosen, HPAE!
Over the next three years, HPAE healthcare workers will continue to mobilize and advocate for worker and patient safety, to address racial disparities in healthcare, to engage and mobilize our members, to organize new units and bargain stellar contracts.
Here are some highlights from the Convention:
Debbie White, RN, HPAE President State of the Union Speech
HPAE 2021 Convention Keynote Speaker: "Moral Injury Among Healthcare Workers Stories: of Fractured Hearts and Wounded Souls."
Prof. Pittman, PHD, FAAN, is director of the Fitzhugh Mullan Institute for Health Workforce Equity, George Washington University.
HPAE COVID Memorial Video
---
Workshops
Thank you to our engaging and insightful speakers on Day One of the Convention. If you attended a contact hour workshop and did not receive your certificate please contact Barbara Rosen, brosen@hpae.org.
Contact hour speakers included:
Carolyn Bazan, MS, LAC, CRC: "COVID, TRAUMA AND STRESS: TAKING CARE OF OUR MENTAL HEALTH"
Sabiha Hussain MD, MPH: "Social Determinants of Health: Why Do They Matter?
Ellie Barbarash, MS, CPEA: "Stopping Violence Against Healthcare Workers"
---
HPAE Business
On Day Two of the Convention the business of the union was conducted. The following documents were voted upon and approved by the Delegates who attended the Convention.
---
Awards Ceremony
During the Convention, HPAE awarded members and allies, with awards acknowledging their work as advocates for healthcare workers. Those awards were given to:
NJ Senator Loretta Weinberg, Senate Majority Leader, Legislative District 37
Laura Kenny, Assistant Regional Administrator For Technical Support, USDOL-OSHA Region II
Claudia Storicks, HPAE COPE Treasurer and At-Large-Member
Local awards were given to:
Local 5105 recognized Beth Cohen of Virtua Mount Holly Hospital
Local 5058 recognized Barbara Boyler of Jersey Shore University Medical Center
Local 5106 recognized Christopher Lewis of Temple Episcopal Hospital
Local 5091 recognized Margaret Merchant of Bergen NewBridge Medical Center
Local 5185 recognized Michele Viellette of Bayonne Medical Center
Local 5147 recognized Chris Fatzer of Hudson Regional Hospital