Informational Pickets at Hackensack Meridian Health for Patient Safety, Workers' Rights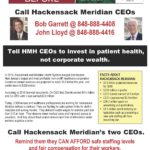 Health professionals and community members, by the hundreds, conducted a one-day informational picket outside of Hackensack Meridian Health three facilities on Wednesday, August 15, 2018.
 Along the shore, nurses at Jersey Shore University Medical Center and Southern Ocean Medical Center and up on the river in Hudson County, healthcare workers at Palisades Medical Center and The Harborage.   They  demanded safe patient limits, livable wages and a workplace free of intimidation.  While walking the picket line workers they urged the community, patients, family members  to call the CEOs of the health system to support their efforts at the bargaining table.
The outpouring of support from the public has been tremendous. HPAE members appreciate and value the ongoing support. The HPAE bargaining teams will return to bargaining on August 22 and will continue to their fight for patient safety and workers' rights.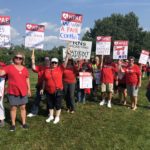 Click thumbnail to view more pics