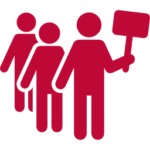 STAND UP AND PROTECT:
NJ Public Healthcare | Your Tax Dollars | Nurses and Health Professionals
RWJ Barnabas and Rutgers are planning a long-term affiliation behind closed doors with your tax dollars!
The proposed long-term affiliation between RWJ Barnabas and Rutgers has been orchestrated with a complete lack of transparency. We need to protect public health, access to patient care, and our nurses and health professionals! Take action by emailing your legislator now!

EMAIL YOUR LEGISLATOR NOW!
Use the tool below to sign and send our letter to your state officials in just a few clicks.