Update on the Health Insurance and Market Rate Adjustment Class Action Grievances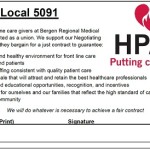 We have filed two class action grievances against Meridian regarding management's violation of the contract regarding health insurance and market rate adjustments. On March 3, we met with Sherrie String, Senior VP for Human Resources. She has denied both of our class action grievances. We have a right to fight her decision and we plan to do that.
Market Rate Adjustment Grievance:
Please look at the HPAE rates of pay in your new contract. If your base hourly rate is less than the amount listed for your number of years experience, we want you to contact us immediately. You must contact us no later than April 25, 2016.
An example: You have 10 years experience as an RN but your base hourly rate is $32.40, then you are making $2.50 less than an RN with 10 years experience hired tomorrow.
Health Insurance Grievance:
We filed a class action grievance on behalf of all members at Locals 5058 and 5138 who are enrolled in the health insurance plan. An overwhelming majority of members signed the petition demanding that Meridian keep its agreement to maintain co-pays for physician visits.
We must get Meridian to address the increased costs in the health care plan. Member action will help us win our grievance. If you are incurring costs for in-network physician visits, please let us know by clicking here and doing on on-line survey.