HPAE Local Leaders Meet to Develop United Strategy Toward Meridian-Hackensack Merger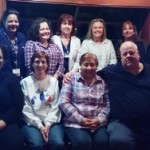 With the merger of Meridian Health and Hackensack University Health Network drawing closer, leaders of the four HPAE locals who will be dealing with the new, mega health system met recently to discuss a united strategy for the merger and negotiations next year. The four locals represent 2100 workers at four facilities across these systems.
HPAE Locals 5058/Jersey Shore University Medical Center and 5138/Southern Ocean Medical Center currently represent RNs in the Meridian system while Locals 5030/Palisades Medical Center and 5097/Harborage House represent staff whose facilities officially became part of Hackensack last month.
The local leaders discussed our approach to public hearings on the merger, set for May 4 in Hackensack and Neptune. Local leaders will be testifying at both hearings, emphasizing the importance of protecting the quality of patient care and our contractual rights.
Additional strategy sessions and discussions are planned.