HPAE Locals Reach Contract Settlements
Yesterday, two HPAE locals reached contract settlements. Local 5091, which represents RNs and non-nursing professionals at Bergen Regional Medical Center (BRMC), resolved the remaining issues with management to achieve an agreement for a 3 year contract. Nurses employed by the Visiting Nurses Association in Essex, Hudson, and Bergen counties settled their two contracts as well. The nurses are members of Local 5107.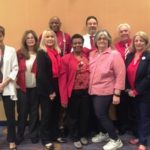 While details of the BRMC settlement are being withheld until HPAE members review the new terms, HPAE local president Jeff Peck, an RN at the hospital, said, "We believe this contract will give healthcare workers the tools they need to make sure our facility is safe for patients and workers." Members will meet this Friday to discuss and vote on the contract settlement.
Read an HPAE Press Release on the BRMC Settlement
Both VNA contracts expires October 31, 2017. The contracts include wage increases each year of a 2 year contract, increases in the RN per visit rates, and improved contract language. Ratification meetings are being scheduled.