Arbitration Victory for Local 5147 Members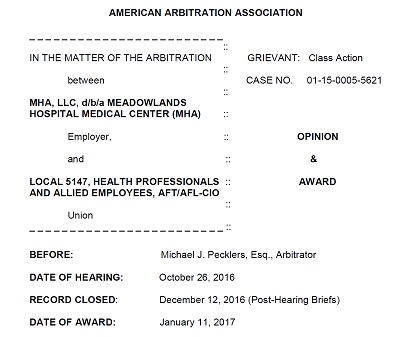 On January 12th, Arbitrator Michael Pecklers issued a decision in a grievance filed by our union in 2014. Our grievance claimed Meadowlands Hospital violated the contract and the law by failing to annually advance nurses and techs on the wage step scale as required by the contract. It was a class action grievance.
The arbitrator ruled in our favor. His decision awards the approximately 113 RN & Tech members in the local with a five-year jump in experience credit on the wage scale, and backpay (with interest compounded daily) representing the experience credit for which they were not paid from June 28, 2014, to the present.
In addition, he determined that this was also a violation of the federal labor law, the National Labor Relations Act.
This is a tremendous victory for our local and all the members of HPAE!