HPAE's Hackensack Meridian Locals Begin Petition Campaign on Key Issues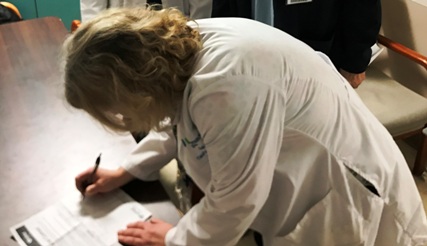 Over 2,000 HPAE members represented by HPAE locals at Jersey Shore University Medical Center (5058), Palisades Medical Center (5030), and Southern Ocean Medical Center (5138) will soon begin negotiations with Hackensack Meridian Health, the recently-created health system which includes thirteen acute care hospitals. In addition, healthcare workers at The Harborage (5097), a nursing home owned by Hackensack Meridian Health, will be bargaining their contract in 2018.
The four HPAE locals are working together in the negotiations and have begun a petition campaign to highlight issues that are crucial for all HPAE members:
Safe staffing protections for all bargaining unit members, including safe work loads, proper equipment, and training;
Patient safety measures
Improved health care provider access
Controls for rising out of pocket medical expenses
Equitable wages for all employees
Support for the right of every worker to organize a union without retaliation or harassment
The bargaining committees at Palisades, Jersey Shore, and Southern Ocean Medical Center, are now developing proposals which incorporate these key priorities.