Cathi Goldfischer Assists Recovery Efforts in Florida, Puerto Rico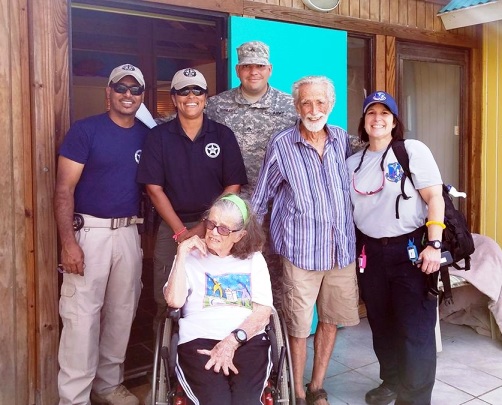 Local 5004 member and Health and Safety Chair Cathi Goldfischer took part in relief efforts in Florida and Puerto Rico as part of a Disaster Medical Assistance Team (DMAT) established through the Department of Health and Human Services' National Disaster Medical System. In Comerio, Puerto Rico the DMAT members made house calls, brought food, helped fill prescriptions and did much more.
Here is Cathi's account of some of her experiences in Puerto Rico:
---
All is well. We received another NP today and a pharmacist to complement our staff of 11.
I went out into the field today and made two house calls. One was an elderly gentleman who was bitten by a dog two weeks ago. He came to the clinic 5 days ago and was supposed to come by for a wound check. Never showed. Addresses here are by rural road number and mile marker. But on his road the mile markers are NOT accurate. Gama who is from Comerio and with the Army, went to a few houses and we finally located him. Needless to say he was shocked when the US marshals pulled up in their Jeep, and I came out of our Jeep for a house call. The dog was home as well!!! But I treated him on his porch with the railing between us. The dog seemed hungry!!!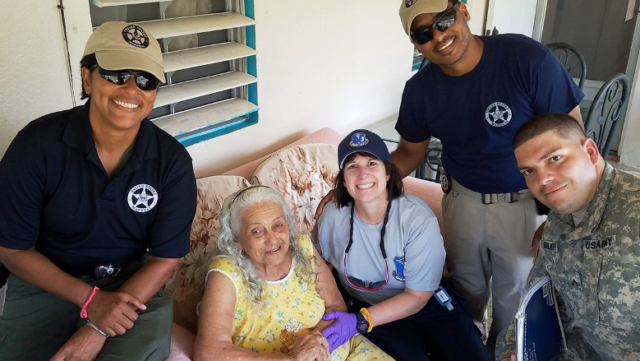 The second house call was an elderly couple who use to live in the US. Their friend /handiperson approached me this am when I went to get coffee. He mentioned that they were elderly and needed food and water as well as a checkup. They live in the pink house, next to the green cement house "up by the antenna. ". We drove up this steep hill, and down a goat path. My driver is a truck driver in California, but the hills are steep and narrow. After a few knocks on a few doors (again with marshals) we found them in a beautiful home overlooking the valley. She has Parkinson's and is confined to a wheelchair. He is hard of hearing with cardiac issues. After I checked them both I asked if they had spoken to their families since the hurricane. Their son from the US was with them during the hurricane.
Called daughter number 1 in Illinois. No answer, mother left a voicemail. I added to it. Then I called three more times thinking that she would get the hint that the call was NOT a telemarketer. Explained to the patient that we were not FEMA, but were from Health & Human Services, National Disaster Medical System. Called daughter #2 in California. Mother left a message and said, "FEMA is here to check on us but they don't like to be called FEMA!!!" The daughter actually called my cell phone when I was back in town. I reassured her that all was well with her parents. That I wrote a prescription for her father's amiodarone and would drop off at the pharmacy in town tomorrow and deliver it to the house. He prefers Costco because " the price is cheaper". I also took a picture of her parents and emailed it to her this evening. She was greatful.
The male patient was an architect and designed the home they are living in. Beautiful!!! Dropped off four cases of water and 2 cases of military meals. Will hopefully be able to drop off his medication tomorrow. Reset his cell phone and hopefully ATT will have service soon. They really are "by the antenna" which is a huge radio transmission tower with the cell phone sites on it.
All in a days work. We are doing such a great job at community outreach that they are sending more people up to relieve us and to do more outreach.
The people of the town are also busy feeding us . I walk around town , with my escorts" and I feel like I am part of the neighborhood.
Well bedtime. Earplugs in . Some snorers moved into the cot next door.
Cathi
---