Sweeney Calls for Return of Salem Hospital Trust Fund to Facilitate Purchase by Inspira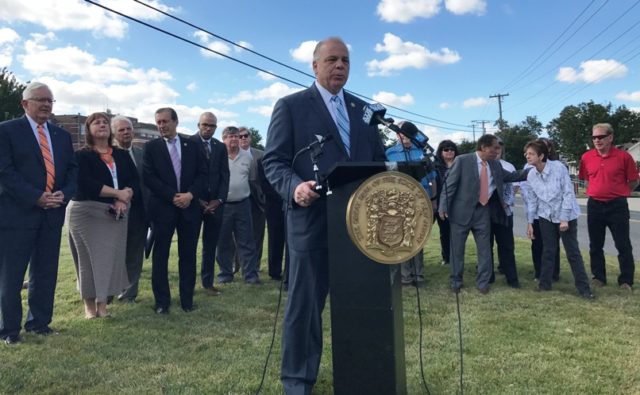 The Memorial Hospital of Salem County, which has been struggling for years, remains on life support and desperately needs an infusion of cash from a trust fund to keep its doors open, state lawmakers said on Tuesday at a press conference at the hospital.
A trio of lawmakers led by state Senate President Steve Sweeney (D., Gloucester),  called for the return of the $51 million trust fund to Salem County to help facilitate the sale of the hospital to Inspira Health, which has expressed interest in purchasing the hospital and maintaining needed services for the community.
Watch the brief video below of the press conference.
HPAE Local 5142  represents RNs at the hospital and has been engaged in negotiations for a first contract with the current hospital owner – for-profit Community Health Services (CHS) – for over a year. One of the Local 5142 RNs, Patrice Sharkey, spoke out strongly in support of returning the trust fund to Salem County, as did HPAE Vice President Bernie Gerard.
Click here to read an article on the press conference.