New Owner Eager to Take Over Struggling South Jersey Hospital
Taken from NJSpotlight.com, May 2, 2018
By Lilo Stainton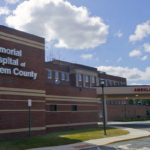 Powerful local politicians keep close watch; not all services that previously had been eliminated would be restored
South Jersey leaders are cautiously optimistic about the plans of a healthcare facility group to revitalize a long-struggling Salem County hospital, an operation that healthcare advocates and public officials agree is a crucial asset in a rural corner of the state.
Community Healthcare Associates LLC, an Essex-County based company, filed paperwork yesterday seeking state approval of an agreement it has reached with Community Health Systems, an unrelated company based in Tennessee that operates Memorial Hospital of Salem County, a for-profit, 126-bed facility in Mannington Township.
CHA has overhauled four community hospitals since it was founded a decade ago, creating "medical arts" complexes with multiple services, but not acute-care facilities. It has offered to pay the current owners $1 million for Memorial Hospital and return any cash on hand in hospital accounts, estimated at $3 million. But, in this case, its plan calls for it to protect the acute-care functions at the Salem County facility and operate this core as a nonprofit, while bringing in a mix of other providers, some of which may be for-profit businesses.
The proposed deal involves just a fraction upfront of the $15 million purchase price discussed three years ago — when California-based Prime Healthcare Foundation was interested in acquiring the facility — and likely reflects the economic and other challenges facing community hospitals during a time of evolving care, with a growing emphasis on prevention and out-patient treatment.