Union pickets at Palisades Medical Center, three other Hackensack Meridian locations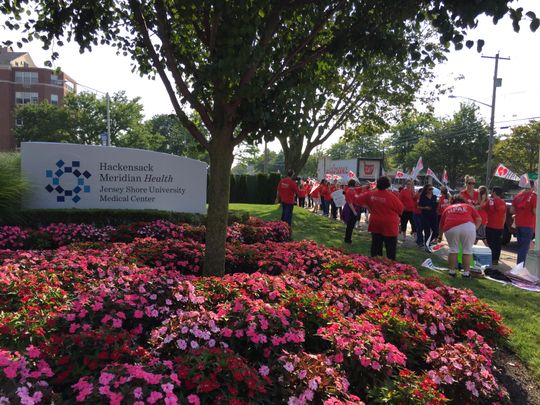 With negotiations for new contracts stalled, union health workers on Wednesday picketed outside Palisades Medical Center and its nursing home, as well as two other hospitals in the Hackensack Meridian Health system.
Car and truck horns blared on River Road in North Bergen as some 50 members of the Health Professionals and Allied Employees union waved signs saying "Honk for Safe Staffing" and "Be Fair to Those Who Care."
The job actions were considered "informational pickets" and not strikes.
All four locations remained open, a health system spokeswoman said, and steps had been taken to "minimize any possible disruption to those getting care and visiting our facilities."
Similar demonstrations took place at Jersey Shore University Hospital in Neptune and Southern Ocean Medical Center in Manahawkin.
This is the first time four union locals have bargained simultaneously with Hackensack Meridian Health, which was formed in 2016 through the merger of Hackensack University Health System and Meridian Health. The main issues for the union are staffing levels, wages and health coverage.
The Edison-based health care system is neck-and-neck with RWJBarnabas Health in a battle to become New Jersey's biggest health care provider. But it also is under pressure from consumers and insurers to deliver care less expensively.. Read More
Palisades Medical Center employees picket for better wages, benefits
Hospital spokesperson says workers, hospital are in 'good faith' negotiations
by Fios1news
NORTH BERGEN – Employees at Palisades Medical Center were on the picket line on Wednesday, demanding better pay and a safer work environment. Employees said some of the workers don't make 15 dollars an hour or have benefits they find reasonable.
"Give us a fair contract, give us fair wages, coverage for our insurance, safe staffing for our patients," Palisades Medical Center RN Lorna Miquiavas said.
First Vice President HPAE Bernie Gerard said this situation is about getting the work done safety, with quality.
Hackensack Meridian Jersey Shore picket line demand: Hire more nurses now!
Asbury Park Press
NEPTUNE – With contract negotiations stalled, nurses from four Hackensack Meridian Health facilities Wednesday called on the company to improve its staffing levels and provide better care for patients.
At Jersey Shore University Medical Center in Neptune, nurses walking on an informational picket line said they are overburdened.
"They can't provide the care they need to the public," said Ann Twomey, president of the Health Professional and Allied Employees union. "It leads to burnout."
The union represents nearly 2,500 nurses and other health professionals at Jersey Shore, Southern Ocean Medical Center in Stafford and Palisades Medical Center and The Harborage, both in North Bergen. See the video above for scenes from the picket line in Neptune.
Their contracts, which expired in July, present a challenge for executives at Hackensack Meridian. Read more