Union Re-certification Election: What to know before we vote
A National Labor Relations Board Agent will administer an election on:
Tuesday, November 13th: 6:00 pm- 9:00 pm and
Wednesday, November 14th: 6:00 am – 9:30 am and 10:30 am – 5:30 pm
Where: TCU Activities Room. All votes must be cast in person.
I'm working that day. Will I be released from my assignment to vote during my shift?
We encourage everyone to arrive at work well before your shift to ensure you have plenty of time to vote and still clock in on time. Plan on the possibility of a wait to cast your ballot around shift change. Nurses who are in line when the polling time ends will be allowed to vote, but no one may enter the line after the polling period ends. You cannot count on having an opportunity to vote during your shift.
I'm not working that day. Can I cast my ballot by mail or electronically? Can I designate a proxy to vote on my behalf?
Ballots must be cast in person, with one ballot per eligible nurse. Proxy votes are not allowed. Come out and VOTE YES!
What will the ballot look like?
The ballot will ask whether you wish to continue being represented by our union, Health Professionals & Allied Employees (HPAE) AFT/AFL-CIO. We strongly encourage a YES vote to preserve our professional voice at work. The hospitals is required to post sample ballots well ahead of the election. Look for the postings in your break room or where other employment postings are found.
How can we trust the results if the election is held in the hospital?
That's a fair question considering all the reports of unethical solicitation and illegal support by HMH management. The NLRB Agent will monitor the ballot box at all times, sealing and securing it when the polls are closed. While the polls are open, each side may have one observer in the polling room. This observer may not be a manager, and no managers (or union staff) are allowed in or around the room while polls are open. Managers are forbidden from monitoring the polls, and if you notice anything that doesn't seem right, tell the Board Agent immediately and report it to your unit rep or organizer.
How well we learn the results of the election?
Barring any unforeseen challenges, the ballots will be counted by the NLRB Agent immediately following the end of the final voting session at 5:30 PM on Wednesday. All nurses who are not working are encouraged to observe the counting of our overwhelming YES vote.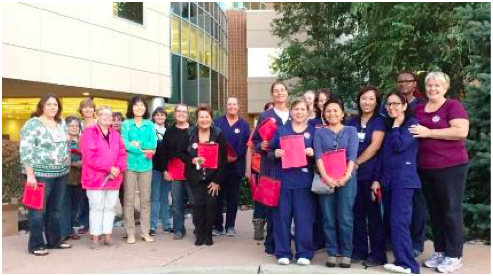 All members are encouraged to take opportunities to demonstrate public support for our union. When a coworker approaches you about taking a photo, sending a text message, or other ways to demonstrate our strength and power in numbers, know you are standing with the overwhelming majority of your coworkers as we support our voice in our union to advocate for our patients at our community hospital.
We are Union Strong!
#HPAEYes
#YESFor5138