Hackensack Meridian gives nurses raises, pledges to hire more
Taken from The Asbury Park Press
December 17, 2018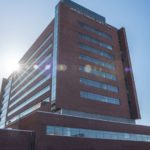 Nurses from two Hackensack Meridian Health hospitals ratified a 22-month contract that includes a pledge to hire more nurses, satisfying what their union said was their biggest concern.
The nurses from Jersey Shore University Medical Center in Neptune and Southern Ocean Medical Center in Stafford also will receive reductions in the cost of health insurance and wage increases of up to 2.5 percent, the union said.
"Our members stayed on track with our message that safe staffing equals safer patient care," said Sue Kaszuba, vice president of  Health Professionals and Allied Employees Local 5138 at Southern Ocean.
The contract covers 1,500 nurses at the two hospitals and runs retroactively from July 31, 2018, to May 31, 2020.
It caps a contentious negotiation that included demonstrations by nurses and a bid supported by Hackensack Meridian to decertify the union at Southern Ocean. Nurses there ultimately voted to stay with the union.
The contract talks also came with a backdrop of a health care industry that, under pressure to rein in costs, is consolidating. Jersey Shore and Southern Ocean's predecessor, Meridian Health, merged two years ago with Hackensack University Health Network.