Englewood Medical, one of last independents in region, to merge with Hackensack Meridian
Taken from The North Jersey Record
October 15, 2019
By Lindy Washburn,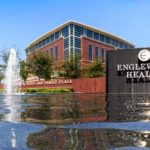 Englewood Health, for 130 years an independent hospital serving eastern Bergen County, plans to merge into Hackensack Merdian Health, one of two large health systems that now dominate medical care in New Jersey.
The merger agreement includes a commitment by Hackensack Meridian to invest $400 million in new operating rooms, expanded cardiac facilities and outpatient sites for Englewood physicians, executives of the two institutions announced Tuesday. Hackensack Meridian has also agreed to take on Englewood's outstanding debt of $182 million.
"We realize that we can do many things together that we cannot do alone," Warren Geller, Englewood Health's president and CEO, wrote in a message Tuesday to staff, employees and volunteers of the hospital.
The hospital employs 3,400, including 750 nurses represented by the Health Professionals and Allied Employees union, and has 1,100 affiliated physicians. No layoffs are expected.
Some experts have found that hospital consolidation nationwide leads to an increase in prices and decrease in patient satisfaction, as competition is reduced and health systems gain leverage with insurers.
One out of three dollars spent on health care in the United States goes to hospital care. But rising prices and profit margins for hospitals have attracted less attention from lawmakers than drug prices, because most people have insurance coverage that limits their out-of-pocket payment. The main effect of increased hospital prices is higher insurance premiums, which are paid by employers and consumers.
The merger comes during a growth spurt for Hackensack Meridian. Less than a month ago, it announced a partnership with St. Joseph's Health, whose hospitals are in Paterson and Wayne, that allows the Catholic hospital to maintain its religious health principles while investing $60 million in ambulatory care services in Totowa and an expansion of women's health services.