Coronavirus has killed dozens in state prisons. How N.J. failed to stop it.
Taken from NJ.com
By S.P. Sullivan | NJ Advance Media for NJ.com and Blake Nelson | NJ Advance Media for NJ.com and Joe Atmonavage | NJ Advance Media for NJ.com
May 13, 2020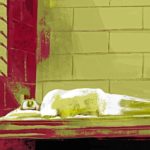 The day after New Jersey lowered its flags to honor coronavirus victims in early April, a grandmother died in Belleville. She was a nurse at Northern State Prison.
Two weeks later, a pregnant woman from Bridgewater drove her husband, gasping for air, to the emergency room. He is an officer at East Jersey State Prison in Avenel and remains on oxygen.
Three days after that, a man who had made it more than a year-and-a-half as an inmate took his last breath at a Trenton hospital. He was a former Bloomfield councilman, awaiting possible release in July from a halfway house.
From the start of the pandemic through today, 42 inmates and at least 3 people who worked in state prisons have died with the coronavirus, leaving New Jersey with the highest rate of inmate deaths in the country. The death toll likely is higher still because of inconsistent testing and deaths not officially attributed to the pandemic.
All the while, Gov. Phil Murphy has lauded his administration's handling of the crisis, saying they have done all they can to separate prisoners, protect staff and maintain public safety during the unprecedented pandemic.
"That doesn't mean that we bat a thousand every day," the governor said at an April briefing. "It doesn't mean we can't do better. And it doesn't mean we don't care."
An NJ Advance Media investigation for NJ.com of New Jersey's response to the spread of the coronavirus in its 26 state prisons and halfway houses found a spiraling death rate and jarring inconsistencies between what authorities said was happening and what inmates, officers and civilian staff witnessed on the ground.
Since the pandemic began, Garden State prisoners have died at a rate of 21 people for every 10,000, according to an analysis of national data compiled by The Marshall Project, a nonpartisan news organization that covers the criminal justice system. That's double the rate of the rest of the state.
The picture is even worse when you compare the prisoner death rate to neighboring New York, where the prison population is more than double the size of New Jersey. They've reported more than twice as many confirmed cases in prisons, but they only have 15 inmate deaths, a little more than a third of New Jersey's total.
How could so many die so quickly?
As the virus spread and Gov. Murphy ordered all New Jerseyans to shelter in place, prison officials continued to shuttle inmates between northern prisons, where the virus was prevalent, to southern ones, a region that at the time had few or no cases.