Virtua Profile: Jill Schnaudt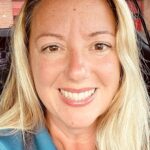 I became an Emergency Medical Technician (EMT) since 1995 and a Paramedic since March 2002. I have been a Virtua Health Paramedic for 19 years. I am a lifelong resident of Burlington County. For as long as I can remember, I have always wanted to help people. I have been serving the community for over 26 years. My family is the most important part of my life. I met my husband in paramedic school in 2000 and I am the proud mother of two amazing kids.
Why Organize?
I want fair and equal labor practices for my co-workers and I, with defined policies and procedures. I want transparency and clear, respectful communication between employees and Virtua Health management. Having a collective bargaining agreement will give us this recognition and the job security that we need. We want to know we are able to provide for our families and have adequate benefits to secure our future.
Why should Burlington and Camden counties care about you organizing?
We want a safe environment with the appropriate equipment needed to protect and care for our patients and community. Emergency Medical Services (EMS) can be a stressful, difficult and thankless job with long hours. We spend a significant amount of time away from our families and loved ones, sometimes missing holidays and family gatherings or even important events in the lives of our children. Often, when we are away from work and home with our families, our patients remain in our thoughts. We wonder if we did everything possible and had all the resources available to help and care for them. We wonder if they had a successful recovery from their illness.
Most EMS professionals are humble and do not look for recognition from the community. What we do want is respect and recognition from our employer, Virtua Health: Virtua could show its appreciation and recognition for us as hardworking, dedicated professionals by providing safe working environments and all the resources we need to aide us in caring for our community.
What would being respected on the job look like?
We are dedicated, hardworking employees. We want Virtua Health to acknowledge and respect that.