HPAE statement FY-2023 NJ Budget
Please attribute the following statement to HPAE Vice President Barbara Rosen:
HPAE nurses and healthcare workers argued for, lobbied and ultimately challenged Gov. Phil Murphy and state legislators to adequately fund the operation of New Jersey's only public hospital by raising the annual budget allocation for University Hospital in Newark to $151.1 million. Unfortunately, the 2023 Fiscal Year budget calls for just $44.7 million for University Hospital in Newark. This does not meet the needs of patients, workers and the community served by the hospital.
Last week, HPAE released a position paper—Fulfilling the Historic Charge of University Hospital in Newark: and Sustaining the Opportunity for Public Health for Future Generations of New Jerseyans—that, among other things, highlights the disadvantage financial position University Hospital is in versus their more affluent privately run counterparts in the hospital industry.
In the report, an index of the fiscal health of a hospital, as measured by days cash on hand, shows UH's "cash on hand" would allow the hospital to remain open for only 80 days if revenue were to stop today and all cash outlays remained the same. Other hospitals/ healthcare systems in the state can remain open for three to six times longer because they have some much more cash on hand, in the tens of millions to hundreds of millions.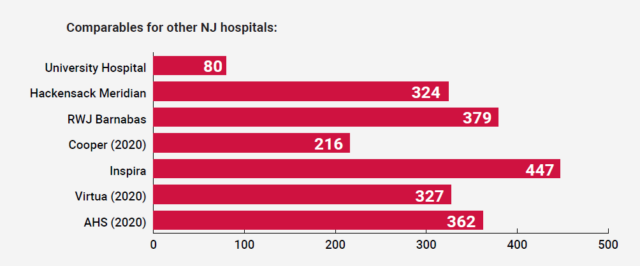 This allocation is a profound missed opportunity at a time when the state has actual resources to put its money where its mouth is.
Despite successive state government administrations failing to adequately fund it, University Hospital in Newark has remained committed to continuing as an anchor institution in the municipality and the Northern New Jersey region. In addition to the crucial, direct patient care that UH provides, it has a vital and unrivaled role as a public health institution in the state.
Fore more information, contact: Michael Allen, (646) 436-7556.