RWJBarnabas to buy Christ Hospital and Hoboken University Medical Center
October 23, 2019
Teri West | The Jersey Journal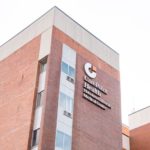 RWJBarnabas, one of the state's largest health care systems, is set to acquire Christ Hospital and Hoboken University Medical Center in a deal that could drastically change the health care landscape in Hudson County.
In a joint statement, CarePoint Health announced Tuesday it has signed a letter of intent to transfer the two hospitals to RWJBarnabas, its chief competition in Hudson County. Parameters of the potential transaction were not provided.
CarePoint also announced it is in the process of finding a "strategic partner" for the third of its hospitals, Bayonne Medical Center. A source with knowledge of the company's plans said there are multiple health care systems that are interested in acquiring Bayonne Medical Center.
The news comes a day after Bayonne Mayor Jimmy Davis held a press conference to announce that RWJBarnabas was looking to acquire the CarePoint system, and warned that such a deal could lead to the closure of Bayonne Medical Center.
"This pending deal between CarePoint Health and RWJBarnabas Health reeks of an outright betrayal of our city and is certainly not good news for Bayonne Medical Center and our residents," Davis said in a statement. "Yesterday, we were told that there was no deal to sell off CarePoint's hospitals and today we learn that this was simply false. The fight to save our hospital is only just beginning."
The two companies expect to reach a definitive agreement before the end of the year to bring Christ Hospital and Hoboken University Medical Center into the RWJBarnabas network, which would control three of the six hospitals in Hudson County. Jersey City Medical Center is already a part of the RWJBarnabas system.
"For many years CarePoint and Christ Hospital have provided critical, and even lifesaving, services to our residents," said Jersey City Spokesperson Kimberly Wallace-Scalcione. "We've also had a working great relationship with RWJBarnabas and we welcome all opportunities to enhance healthcare services."