Further Consolidations Are Being Eyed for Rutgers' Two Med Schools
Taken from NJSpotlight
January 31, 2020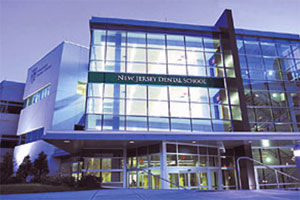 Merging Rutgers' medical schools under one umbrella entity with two separate campuses could yield an institution with one of America's largest classes, boost research-dollar rankings, improve student education opportunities and expand patient access to clinical trials.
Those are some of the findings of a report by the Future of Academic Medicine Committee, empaneled last year to examine the pros and cons of consolidating Robert Wood Johnson Medical School in New Brunswick and New Jersey Medical School in Newark into one institution, but with real campuses in both cities.
The committee did not recommend one path forward, but stressed that the two programs are already collaborating on a growing number of efforts — including a new clinical partnership with RWJBarnabas Health designed to boost research capacity and expand medical residency options. The panel also outlined additional opportunities for integration, such as aligning curricula, using technology to connect various programs, and enabling students to take courses at both schools.
But, the report suggests that if the two state-run schools joined together under one re-branded name and banner — with alignment in admissions process and curricula, research priorities, clinical goals, and support for staff and faculty — and became accredited as one school with two campuses, it would be the only model of its kind nationwide. And by combining its resources, the merged school would likely rise in research-dollar rankings and other assessments, while attracting new support and partnership opportunities.
"I've asked our faculty to think about the right model for Rutgers and what medical education will look like in 2050. The goal here is not to catch up to what others are doing, but rather to set a new standard and model," Chancellor Brian Strom told NJ Spotlight on Thursday after presenting the report to faculty and staff at both schools.
NJ Spotlight obtained a copy in advance.
Strom oversees both medical schools and six other health programs under the umbrella of Rutgers Behavioral Health Services, the entity created after former Gov. Chris Christie dismantled what had been the University of Medicine and Dentistry of New Jersey in 2012.
While the findings of the committee may seem anodyne — and Strom stressed no decision has been made — the process of making any major reforms is likely to be highly controversial.
The group flagged multiple concerns, including bridging cultural differences at the two schools, properly aligning accreditation metrics, effectively branding and marketing a combined program, and ensuring equitable access to research dollars and other resources.
And, while it acknowledged change would require significant investment, the group was not charged with figuring out how it would be funded.