How the powerful NJ hospital interests beat back stronger health laws during COVID
Taken from NorthJersey.com
Dustin Racioppi and Charles Stile, Trenton Burea
April 20, 2021
VIDEO: Sheryl Mount, RN, on the challenges that face nursing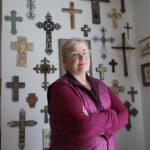 Long before sick and dying COVID-19 patients inundated New Jersey's hospitals, it was common for nurses in certain units — such as emergency departments — to miss breaks or even skip using the bathroom on their 12-hour shifts.
For years, hospital workers have pleaded with state government to set increased staffing levels into law, warning of "a dangerous environment for New Jersey's patients and health care workers," as a Newark nurse and union leader testified to a legislative committee in 2015.
"We've had nurses pass out because they haven't eaten," Sheryl Mount, a registered nurse at Virtua Memorial Hospital, in Mount Holly, said this month.
"I can't tell you how many nights I never ate or drank all night long."
Despite the campaign for better staffing, New Jersey's hospital industry has routinely outmaneuvered the frontline workers in the corridors of the statehouse, a review of records and interviews by the USA TODAY Network's Trenton Bureau found.
From staffing levels to immunity from lawsuits to protection from property taxes, the state's largest hospitals and the New Jersey Hospital Association, with their strong connections to state government, have successfully worked to protect hospitals from policies they fear could hurt the bottom line.
And the influence has become most glaring at the most critical time for the industry: COVID-19 ravaged the health care industry, strained resources and led to 25,000 deaths — the fifth most of any state in the nation.
The industry's successful track record of influencing state health care policies has continued through the pandemic.
It's something current and former health officials say is the result of the cozy connections between the lobby and lawmakers — and the state's increasing reliance on the private health care industry for advice and policy.
Hospitals, their lobbying arms and experts have shored up a depleted state workforce, and many lawmakers are deferential or connected to them, according to current and former health officials.
Patient and health care advocates warn those relationships and that reliance could have dire consequences.
For instance, even as the coronavirus ripped through nursing homes, the hospital association fought efforts to require higher staffing ratios. Research has shown more staffing may have slowed transmission and potentially saved lives.
The hospital association — led by a former state health commissioner — and Virtua Health also successfully lobbied political leaders to keep health care worker deaths and cases of COVID-19 from public view.
During the deadliest days of the pandemic, the industry lobbied for a law that shields hospitals from patient lawsuits. The immunity measure, which remains in effect, blocks families from any legal recourse until well after the emergency has passed.
And just a few weeks ago, years of lobbying by the industry culminated in Gov. Phil Murphy signing a new law reinstating a property tax exemption for hospitals after a landmark court ruling had said "modern nonprofit hospitals are essentially legal fictions" and should pay taxes.
The influence of hospitals on political leaders is what George T. DiFerdinando, a former acting health commissioner, calls the "health care-governmental complex" in New Jersey, where large corporations have merged in recent years and increased their footprint and power.
"These hospital groups keep getting bigger and bigger, and what they are doing is for profit," said Republican Assemblywoman Nancy Munoz, who has had a three-decade career as a nurse.
Consolidated hospital systems are "sort of overwhelming," she said. "The systems are so large that they control the entire state."
Health care workers like Mount put it more bluntly: "It's all about power and profits. They don't want to give that up."
The hospital system responds to influence
There is little dispute that hospitals have been stressed physically and financially during the pandemic, and that health care workers were tirelessly saving countless lives.
Reductions in patient volumes for things like emergency room visits and elective surgeries has squeezed average profit margins, from 3.6% to 1.6% in the first three quarters of 2020, according to the hospital association.
And 41% of hospitals did not earn enough revenue to cover operating expenses through September, nearly double the 22% of hospitals running in the red a year ago, the association said.
But the daily strain on the frontlines has done little to weaken the industry's ability to wield clout inside the halls of the state Capitol.
If anything, the pandemic has enhanced its power and deepened the state's dependence on hospitals, which are often communities' top employer and economic engines statewide, experts said.
After years of budget and staff cuts that weakened the Health Department's ability to respond to the crisis, the Murphy administration has leaned on the hospital industry to help fill the void.
Murphy tapped a slew of hospital executives to help shape plans for lockdowns, re-openings and other key policy decisions.
Cathy Bennett, a former health commissioner who is now president and chief executive officer of the New Jersey Hospital Association, was a regular presence at the state's command center to help with the administration's response.