Nurses Leaflet at Hospitals Across New Jersey, Build Momentum for May 11 Trenton Safe Staffing Rally
HPAE Nurses Leaflet at Hospitals Across New Jersey, Building Momentum to Next Month's Rally in Trenton for Safe Staffing
Frontline healthcare workers will gather at NJ State Capitol on Thursday, May 11, 2023 to urge lawmakers to mandate enforceable staffing ratios at NJ hospitals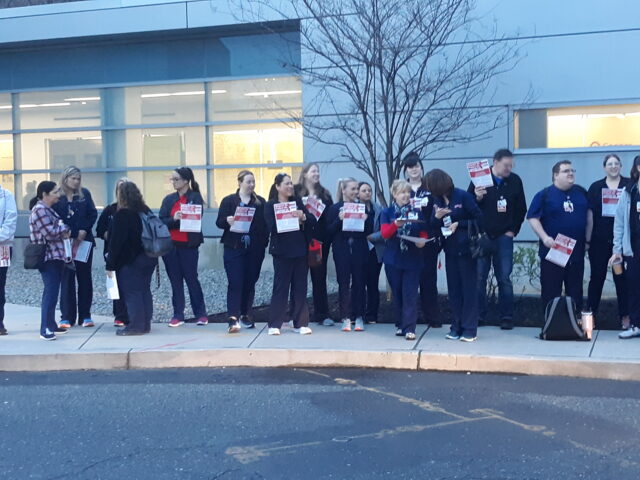 Unionized nurses and healthcare workers launched a campaign several weeks ago with the release of a position paper, "CODE RED: Understaffed. Overworked. Unsafe for Everyone. The Urgent need for Safe Staffing Legislation in New Jersey", highlighting the impact the current staffing crisis is having on hospitals' ability to recruit and retain staff. They are calling on lawmakers to pass NJ-S304, a law mandating enforceable safe staffing levels in the state legislature.
"For years nurses have been urging their employers to address the need for safe staffing, because we have witnessed firsthand the deliberate understaffing of our healthcare institutions by administration," HPAE First Vice President Barbara Rosen said. "When they cut staffing down to its lowest number to maximize profits, the result is nurses no longer feel safe providing bedside care, forcing them to leave the profession. We have lost too many good nurses, and recruiting new nurses alone will not fix this issue. We need lawmakers to step in to mandate safe staffing levels so nurses will stay at the bedside."
HPAE alongside other healthcare unions and advocacy groups will be holding a Rally for Safe Staffing on May 11th in Trenton, to bring together hundreds of healthcare workers, patients and community members to push the New Jersey legislature to pass a law mandating enforceable nurse staffing levels in hospitals.
HPAE is urging their members and the public to sign up at HPAE.org to get on one of the bus pick up locations that will be leaving at 8am to get to Trenton for a noon rally.